I could not let Summer end without displaying my Lilly Pulitzer for Target collection. I love everything Lilly and was so happy to score the Lilly Pulitzer for Target salad plates online on "Pink Sunday". The Target website had it's first ever meltdown that night or I would have purchased many more items. After about 2 hours sleep I crawled out of bed to head to my local Target and stand in line for the store opening. When I arrived at 0630 AM I was 20th in line. As I waited for the store to open the line grew to over 200 people and I was happy I made the choice to get there early. I knew it would be a madhouse once they unlocked the doors at 0800 AM. Thankfully the store manager provided a floor diagram with the location of the LFT items. My main goal was the napkins to match the plates I had already purchased online. When the door opened I ran to the home department along with several other Lilly lovers. A lady started grabbing everything and throwing it in her cart. I grabbed for a set of napkins and she grabbed at the same time. She didn't want to share but, she finally gave in as the store only had two sets. I'm sure everything she put in her cart was on eBay before noon. I also picked up a few clothing items and the beautiful Nosie Posey clutch. Over the next few weeks I checked all the Target stores in my area to pick up returned items and found everything but the glasses and coffee mugs. I finally found the glasses on eBay at a very reasonable price, but no mugs yet. They will come in time. If you love Lilly Pulitzer I'm sure you will enjoy the table.
"Style isn't just about what you wear, it's about how you live." -- Lilly Pulitzer
Lilly Pulitzer for Target collection tablescape
Nosie Posey place setting
Fan Dance place setting
Happy Place place setting
My Fans place setting
Flamingos and elephants are signature Lilly Pulitzer. When I found the palm tree fabric with a light pink background I knew it would be perfect for the charger plate covers for this table.
Lilly for Target cocktail glasses are perfect for a nice margarita, but can be used for other chilled drinks. I decided to use the LFT porcelain dessert plates as coasters under the cocktail glasses.
Flamingo centrepiece
Nosie Posey
Fan Dance
Happy Place
My Fans
I love the Flamingo Salt & Pepper. I found these at Cracker Barrel Country Store in May.
More flamingos and elephants.
I found the little Dept 56 flamingos last summer at Salem Creek in Winston-Salem.
The elephant salt and pepper shakers were found at World Market this season.
I fell in love with this little teapot when I spotted it at Home Goods a few months ago. I knew it would be perfect for my Lilly Pulitzer table.
Resources:
Top plate: Lilly Pulitzer for Target collection
Salad plate: not branded
Dinner plate: Pier 1 Imports from years ago
Dessert plates: Lilly Pulitzer for Target collection
Glasses: Lilly Pulitzer for Target collection
Flatware: Reed & Barton ( my Mother's)
Napkins: Lilly Pulitzer for Target with pom-poms
Wine charms: Lilly Pulitzer for Target collection
Charger plates: fabric cover made by me
Flamingo salt & pepper: Cracker Barrel Country store
Elephant salt & pepper: World Market
Small place setting flamingos: Dept 56 Salem Creek in Winston-Salem
Elephant tea pot: Home Goods
Catherine
This post was featured on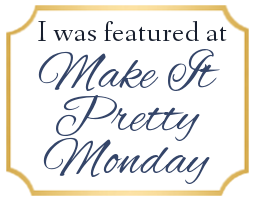 Featured on Make it Pretty Monday
Featured on "Anything Goes" Pink Saturday